As 2020 brings a new decade, it also brings us new services here at the Distress Centre of Ottawa & Region.
This year, we will be launching a text and chat service, providing residents in our serviced areas the choice to use either the phone to call or to use their mobile devices or computers to have a text or chat conversation with our crisis line responders.
With the 2020 launch of this service comes the need for funding.  Join our 100 x $100 Challenge!
What is the 100 x $100 Challenge?
We are looking for 100 businesses and/or individuals to donate $100 each so that we can raise $10,000 to support our new service!
Every donation in the Challenge will receive a charitable tax receipt and a link right here on our website to your business, if applicable.  The earlier you donate the longer your business is linked!
Your donation will help support our text and chat service by allowing us to train volunteers and provide users with a dedicated service that they can depend on in times of distress or crisis.
Make your donation to the 100 x $100 Challenge today: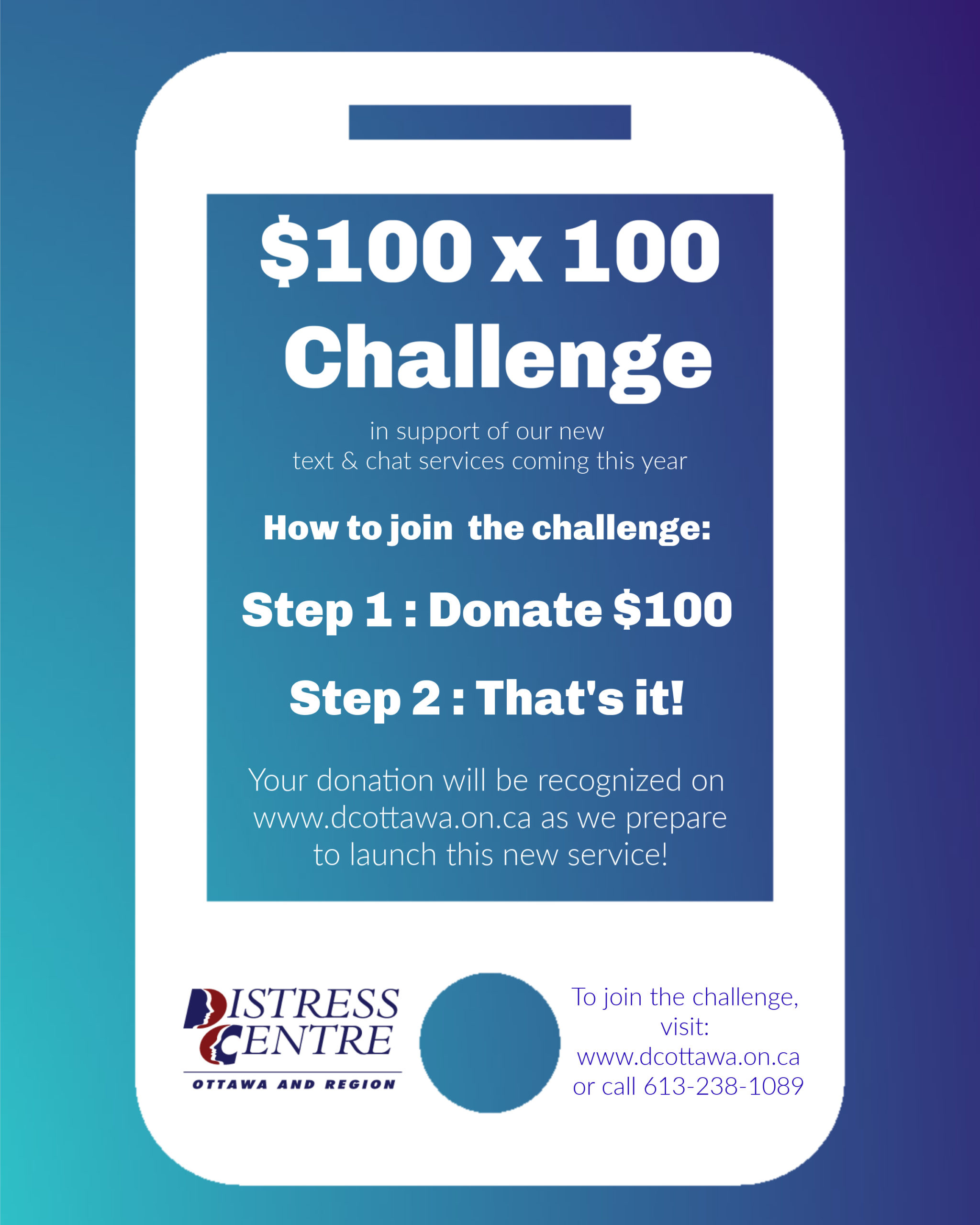 To help us raise the $10,000 we need to be able to launch our new text and chat services, please consider giving us your Twitter handle! If you do, we will tweet the following message out, and tag you in it so that all of your followers see you've donated to us. The goal is to then challenge them to donate $100 to us.
"@yourhandle is challenging their Twitter followers to be like them & donate to help us set up our new text/chat services. We need your help. Texting is the future. Donate now by accepting this challenge & let's get Ottawa some Mental Health Chat Services https://bit.ly/2uGZ90c"
*** If you leave the Twitter handle and/or Name/Company field blank, then we will just add you to the list as "anonymous donor". If you would like to donate a different amount, please visit our donate page. You can put in your comments you'd like your donation to go to our text and chat services and we will add it to this campaign.
100 x $100 Challenge Supporters
Your company name here. Along with your website address and link. Get some SEO Juice!!
Get your full personal name and @twitterhandle right here!
Maybe your name will appear here?
---
Patrick Stevens
Christine Leon
Amie Baker
Wendy Luciani