What is ASIST all about?
ASIST is a two-day workshop which helps develop the skills needed thus preparing the participant to provide a Suicide First Aid Intervention.  This course is for anyone 16 years of age and older, including professionals, volunteers & caregivers.  The aim is to create greater levels of safety for the person at risk of suicide.
After completing ASIST, the individual will be better able to:
Identify individuals with thoughts of suicide
Understand how our beliefs and attitudes can affect suicide interventions
Seek a shared understanding of the person at risk's reasons for thoughts of suicide and their reason for living
Review current risks and develop a safety plan, including follow-up with the person at risk
Participation in both days of training is mandatory.  Small group discussions, powerful videos on suicide intervention, skills-practice based on adult learning principles and a safe, supportive environment make participation enjoyable.
ASIST has saved and changed hundreds of thousands of lives around the world.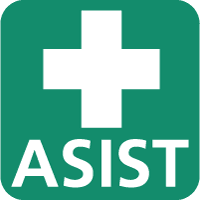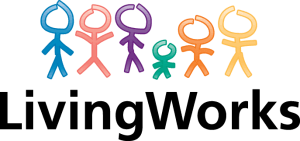 "Coming into training, I was very uneasy about potentially talking with someone who is contemplating suicide.  With the excellent training and group discussions, I am feeling way more at ease and able to assist someone in need.  Thank you for an excellent session!"
-Assist Participant 2016
ASIST offers many benefits for:
College and University Social Work and Social Service Worker programs
Hospital staff
Municipal, provincial and federal government frontline staff
First Responders
School faculty
Anyone who is interested in preventing suicide
When can I attend ASIST?
Businesses, schools and organizations wishing to book an ASIST workshop may do so by contacting our office.  Since this is a two-day workshop, most workplaces opt to offer them to their employees during the work week so that more employees can attend.  We do offer ASIST on weekends, however, space is very limited.  Please be aware that if you prefer to book ASIST for a weekend, there may be a longer waiting period than during the business week.  Please fill out our online Request Form to get started!
What does the ASIST workshop cost?
The cost for the ASIST workshop is $250 per participant.  Note that the number of participants must be between 15 and 30 to book a workshop.
Interested in learning more?
Please fill out the form below and our staff will be in touch!